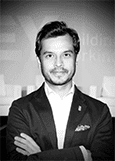 Abhishek Mehta
CEO
Abhishek Mehta is the founder of Tresata, an analytics startup focused on solving one of the biggest problems businesses face today – how to use ALL their data to get, grow and keep their customers.
The ultimate vision? Help transform the way the businesses deliver products and services that advocate consumer needs, and work towards making their lives easier & richer.
Mehta's history is a rich combination of stints as a visionary technology expert and as a practical, in-the-trenches business leader. His experience includes 2 years as Executive in Residence at MIT Media Lab and Managing Director at Bank of America for 8+ years. He has also held leadership positions at Cognizant Technology Solutions and Arthur Andersen.
He is a much sought after speaker on the topics of big data, emerging business models and all customary intersections of those topics. Twitter: @ab_hi_