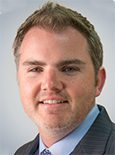 Christopher Blanchette, Ph.D., M.B.A.
Associate Professor of Public Health Sciences
Christopher M. Blanchette, Ph.D., M.B.A. is an epidemiologist and health services researcher with expertise in health economics and outcomes research, health data analytics and pharmaceutical use. He is currently the Director of the Data Science Initiative and an Associate Professor of Public Health Sciences with the College of Health & Human Services at the University of North Carolina at Charlotte as well as Vice President, Health Economics and Evidence Strategy with Precision for Value (a Precision for Medicine company). He holds adjunct faculty positions at the W.G. (Bill) Heffner VA Medical Center, Salisbury, NC as well as with the Department of Pharmaceutical Marketing at the Saint Joseph's University Erivan Haub School of Business and the Division of Pharmaceutical Outcomes & Policy at the University of North Carolina at Chapel Hill Eshelman School of Pharmacy. He has over a decade of experience in leading and managing epidemiology, clinical and health services research programs, teams and departments in the pharmaceutical industry and in management consulting. Dr. Blanchette is the Editor-in-Chief of Drugs in Context, and a member of the editorial board for the Journal of Medical Economics and Current Medical Research and Opinion. He has authored over 60 papers in clinical and economic journals and presented over 100 studies at national conferences. He serves in leadership positions for the International Society for Pharmacoeconomics and Outcomes Research (ISPOR) and is a peer reviewer for the Agency for Healthcare Research and Quality's (AHRQ) Health Information Technology Research study section and the Patient-Centered Outcomes Research Institute (PCORI).