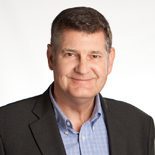 Kurt Newman
Principal Data Scientist, ADP
Kurt Newman Ph.D. is an experienced corporate senior leader who has developed and implemented multiple analytic solutions. Kurt has worked within Financial Services quantitative analytics for 23 years and is now helping prepare ADP data for a variety of commercial use cases.
Expertise establishing/leading quantitative analytics including predictive model development to optimize business strategies, manage risk and execute initiatives to accomplish prioritized objectives.
Proficiency leading teams to design/develop progressive data environments to provision high quality data.
Experience maintaining compatibility with advanced regulatory/compliance business requirements.
Management ability demonstrated by establishing and growing high-performing analytic teams.
Adaptability demonstrated by initiating, developing and stabilizing robust functions and processes that did not previously exist.
Innovative ability illustrated by more than 80 patent applications.