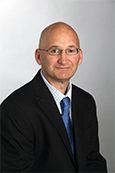 Michael Reid
General Manager of Technical Programs
As General Manager of Technical Programs in Duke Energy's Fossil Hydro Group, Michael Reid is responsible for partnering with internal business units to develop standardized, cost effective technology solutions to continuously improve process efficiency and equipment reliability.
Under Michael's leadership, Duke Energy is applying developments with sensors, computing and communication technology to create value with smart, connected power plant assets. He also is looking at big data and analytics to provide insight and drive actionable intelligence.
Previously Michael was Director of Emerging Technology and earlier served in several leadership roles at Duke Energy, including the areas of Power Generation and Environmental Services.
Michael is vice-chair of the Electric Power Research Institute's Renewable Energy Executive Committee. He also serves on the National Carbon Capture Center's Industrial Advisory Committee.
Michael has bachelor and doctorate degrees in mechanical engineering from the Queens University of Belfast, Northern Ireland. He is also a Fellow of the Institution of Mechanical Engineers and is a registered professional engineer in the United Kingdom and Europe.