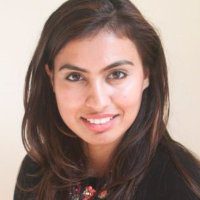 Nisha Balani
AVP, Senior Core Finance Data Steward, CFO Group
Nisha Balani is a Senior Regulatory Reporting Data Steward in within the CFO group at Bank of America. In this role she is responsible for Enterprise Data Management and Governance for data that is submitted to the Federal Reserve Board. Financial Regulation is her domain specialty during her six years with the firm. Prior to Global Financial Control, Nisha was a Senior Risk Analyst with Enterprise Stress Testing and Global Recovery & Resolution Planning within Global Risk organization at Bank of America.
Nisha is currently enrolled in a Professional Master Program in Data Science and Business Analytics at UNCC and plans to graduate in August 2016. She previously interned at Bank of America with the Merrill Lynch Transition during her undergraduate at the University of South Carolina. She obtained a Bachelors of Science in Business Administration with a concentration in Global Supply Chain and Operations Management and a minor in Asian Studies along with the mandarin language. She also traveled to Hong Kong to study the financial and social culture of Hong Kong & China at Hong Kong University of Science and Technology (HKUST).
She is a regular practitioner of meditation and yoga. Nisha was born in Mumbai, India and moved to South Carolina for high school with her family. Topics of interests for her are technology startups, fashion ecommerce, and global travel.