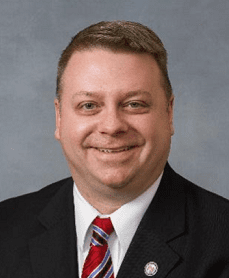 Rep. Jason Saine
NC House of Representatives
Representative Jason Saine, UNC Charlotte '95, is a state and national public policy leader in information technology, tax and revenue. He represents Lincoln County in the NC House of Representatives and is serving in his third term.
Rep. Saine has been recognized as the most "Business Friendly Legislator" by the NC Free Enterprise Foundation. He received the NC Technology Association's Public Leadership Award, for his role in initiatives including creating a cabinet level Department of Information Technology, protecting student and employee social media privacy, changing State tax law to incentivize IT job creation, and encouraging IT innovation at colleges and universities and in State government.
Saine also serves as the Appropriations Chairman of Information Technology. In that role, he oversees roughly $1.6 billion in technology spending for the state of North Carolina. Saine was recently appointed to the Federal Communications Commission's Intergovernmental Advisory Committee where he will use his expertise as a state legislator and technology business owner to help create better IT and telecommunication policy. Rep. Saine is an avid supporter of UNC Charlotte ensuring the funding of the new science building and collaborative research funding.