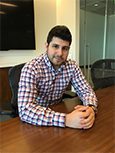 Rick Chakra
Senior Business Applications Consultant
Rick Chakra is a Senior Business Applications Consultant within the US Retail division at Metlife. In this role, Rick has led cross-team relationship management and integration efforts with IT, Business, and Actuarial Resources – successfully launching multiple large-scale life insurance projects onto the strategic online admin system infrastructure. Rick is a team mentor and SME in product-data derivation, data mapping and manipulation, and system debugging and solution design.
Rick is currently enrolled in the Professional Science Master's program in Data Science and Business Analytics at UNC Charlotte – graduating Summer 2016. He also received his B.S. in Applied Mathematics with a Minor in Biology from UNC Charlotte.
His research interests are focused on predictive modeling of financial markets through machine learning, as well as IOT impact on transportation and city design through agent based modeling.