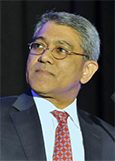 Rishi Bhatnagar
CEO
Rishi has always wanted to resolve big business problems with data. He founded Syntelli early in his career to provide data analytics and business intelligence consulting services. Since starting Syntelli in 2005, he's grown the company to be a premier provider of end-to-end analytics consulting services.
The sources of Rishi's strong consulting experience include work at Ernst & Young and banking, risk management and engineering positions. These roles have given him a broad view of customers' concerns and the ability to move big data solutions into mainstream IT infrastructures.
Rishi is also the Founding President of Analytics & Big Data Society in Charlotte. The society contributes to the community by bringing together people from local business and educational institutions to discuss current big data developments.
Rishi received his MBA in finance from the University of Mumbai and an undergraduate degree in engineering from the National Institute of Technology in Bhopal. He is on the advisory board of the North Carolina Technology Association, member of several non-profits and actively involved in the business community at large. Rishi lives in Charlotte with his wife and children.