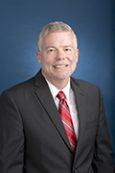 Steve Ott, Ph.D.
Dean, Belk College of Business
Steve Ott is the Dean of the Belk College of Business and holds the John Crosland, Sr., Distinguished Professor of Real Estate.
Prior to becoming Dean of the Belk College of Business in 2011, Dr. Ott was Director of the Center for Real Estate at UNC Charlotte, where he was instrumental in establishing a strong advisory board; developing an M.B.A. and MSRE curriculum in real estate; conducting numerous academic and applied research projects; and in raising an endowment now in excess of $10 million. The Center has recently been named the Childress Klein Center for Real Estate as a result of a $2.5 million gift, and currently is conducting a capital campaign to expand the curriculum; increase the scholarship endowments; and extend the Center's research capabilities.
Dr. Ott has taught courses in real estate finance and capital markets at the undergraduate and graduate levels, and he has taught seminars in financial theory and corporate finance at the Ph.D. level. He has also delivered professional and executive education programs and has consulted for many companies and professional organizations. Dr. Ott has published in many of the top academic journals in finance and real estate, including the Journal of Financial Economics, Journal of Financial and Quantitative Analysis, Journal of Real Estate Finance and Economics, International Real Estate Review, Real Estate Economics, Financial Management, and the Journal of Urban Economics. He has served on the editorial boards of Real Estate Economics and the Journal of Real Estate Portfolio Management. He also has served as a member of the advisory board of the Real Estate Research Institute.
Dr. Ott earned a Ph.D. in Business with a major in Finance and a minor in Economics. He received an M.S. in Business from the University of Wisconsin-Madison and a B.B.A. in Accounting from the University of Wisconsin-Whitewater. "